We are very experienced clinical psychologists offering personalizedone-on-one treatment. We also offer various self-help resources in the form of information, self-help books and CD's and out of hours availability.
Ana Grant (MClin Psych) has been working with people of all ages for over 20 years as a practicing Clinical Psychologist with a Masters Qualification.  She has extensive experience in working with children, adolescents, adults and families.
Ana has worked in both the public and private sectors. She held a position as head of the Inner West Mental Health Services at the Royal Children's Hospital/Melbourne University. Here she was involved in the development of guidelines for the assessment and treatment of children with anxiety disorders and disruptive behavior. Ana also worked in a large Medical Centre for several years treating a wide range of psychological problems and including trauma, chronic pain, disability, anxiety and depression. She has also been extensively involved in the supervision and training of mental health professionals of all disciplines.
Mark Grant (MA) is a psychologist with over 20 years experience in the treatment of stress, trauma, and pain. Mark's main interest and experience is in the role of negative emotion (resulting from stress) as a cause and an effect of health problems. Based on recent discoveries from brain scans, Mark regards emotion as both the key to many psychological problems, but also a powerful resource.  Associated with this, he is interested in treatments which harness people's emotional resources.
As part of his search for such treatments, Mark was an early adopter of Eye Movement Desensitization and Reprocessing (EMDR). EMDR works by stimulating the emotional centres of the brain in a way which enables more adaptive information to enter the system. Mark pioneered the treatment of chronic pain with this method and  research has been published in the Journal of Clinical and Consulting Psychology. He is currently conducting a randomized controlled study into this method.
Veronica Valenzuela is a registered psychologist with over 6 years clinical experience. Veronica graduated with a Bachelors Degree in Social Science (Psychology) from the Royal Melbourne Institute of Technology in 2001.In addition to her university qualifications, Veronica has had training in Cognitive Behavioral Therapy, Rational Emotive Therapy, Hypnosis, basic counseling skills, anger management, conflict resolution and the treatment of drug and alcohol issues.
==>More About Veronica Valenzuela<==
New – Anxiety Release App!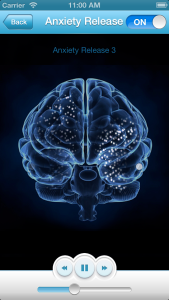 Using the latest technological breakthroughs in Bilateral Brain Stimulation, this iPhone app is designed to provide you with relief from the symptoms of anxiety.
For more information please visit the Anxiety Release website at http://anxietyrelease.com.au